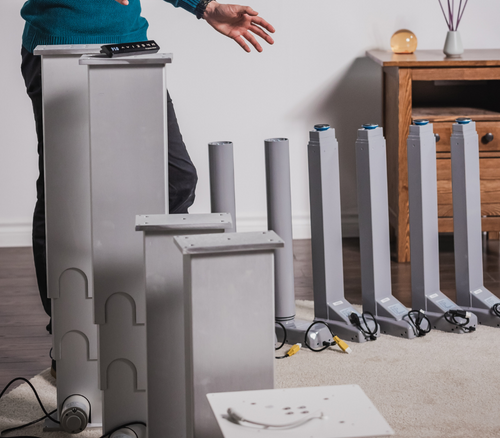 Our Electric Lifting Column Range
Our lifting column range is diverse and designed to suit a variety of applications! From single lifting columns to multiples of two, three, and four, you have a wide choice for your project. We designed our lifting columns with the linear actuator technology that we have become experts in after our years in the industry. Alongside the range of strokes, weight capacities and sizes that we offer, our telescopic lifting columns are also plug and play, and completely synchronized if you choose two or more. We wanted this range to reflect the needs of our customers, and are constantly evolving with every new application!
Browse Lifting Columns
Finding Your Lifting Column Match
Our lifting column range is diverse – we offer a range of stroke sizes, and lifting column shapes, alongside differing weight capacities suitable for any application. Particularly useful to some industries, our lifting column's weight capacities go up to 2600 lbs, and are often found in manufacturing application thanks to this and the high protection ratings our electric columns have. Whether you're looking for this type of heavy-duty solution, or simple electric lift table legs, our range will have you covered!
Find Your Match