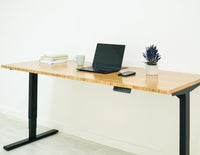 Writing Desks for Your Masterpieces
Being a writer is an interesting and fulfilling job, demanding lots of hard work and concentration, though. But how can you fully focus on your writing when back and neck pain, caused by long hours in a sedentary position, pulls you out of the flow? Here is where an adjustable writing desk can help! Keep your body and mind alert throughout the day by swapping between sitting and standing. 
No longer face the burden of stiffness or restlessness with ergonomic writing desks. Their movement isn't the only key feature: sleek, modern designs, durability, and sturdiness make our standing desks fit any workspace and serve for a really long time!
Quality & Durability:
Beautiful, long-lasting finishes that help protect against scratches, stains, or water.
Long-Lasting Materials:
We provide both high-quality MDF materials and eco-friendly bamboo tabletops.
Large Variety:
Our tabletops range is extensive. Take a look through our catalog and match your favorite to your chosen frame!
The best Standing Desk for a writer
The practice of using standing desks when writing was established a long time ago by world-known writers. We're excited to keep developing this approach, employing advanced technologies and our know-how in creating standing desks to help writers be more prolific. Whether you're looking for a uniformed look or want personalized solutions, you can design your own standing desks with the entire collection using our desk builder.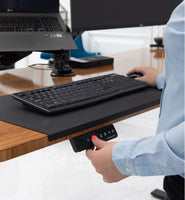 Adjust writing Standing Desks easily
Many of our remotes come with memory positioning – a feature that allows you to set up to four preset heights. Bring your standing desk to your desired height just with one push of a button and stay focused on your writing work. This is just another reason why a Progressive Desk adjustable writing table would be a worthwhile addition to your space!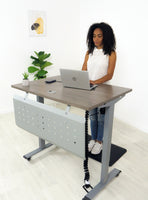 Enhance your productivity
Writers often spend much of their time sitting in front of a computer screen, resulting in back, neck, and shoulder strain. The discomfort in the body impacts mental sharpness as well since the brain may not receive the necessary amount of oxygen due to muscle spasms, disrupting normal blood circulation. To address this issue, it's critical to ensure proper posture and regular movement to stay alert and productive throughout the day. Our stand-up writing desks are developed right to that end!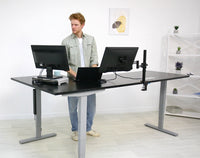 Boost inspiration and creativity
Writers sometimes face an unproductive condition, also known as "writer's block". Different reasons may cause this unwanted decline in creativity, and one of them is a lack of movement when spending long periods sitting. One surefire solution to this problem is adding a bit of activity to your writer's day with a standing desk by regularly shifting from sitting to standing and doing simple stretching and workplace exercise. Physical activity can provide a mental break, allowing the mind to wander and generate new ideas.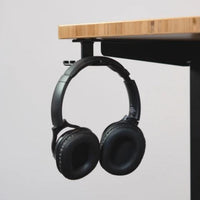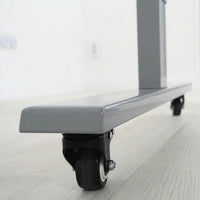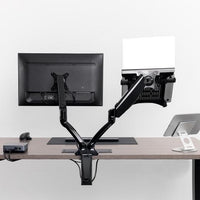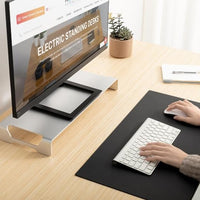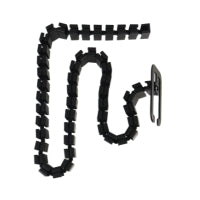 Cable Snake
Drawer
Grommet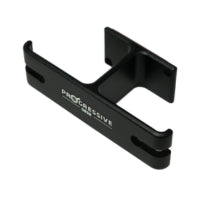 Headphone Mount
Lockable Wheels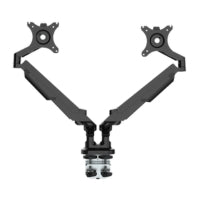 Monitor Mount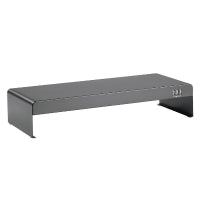 Monitor Riser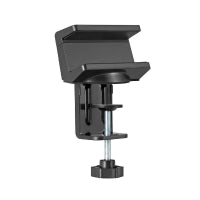 Power Clamp
Compatible Accessories
If you're thinking about optimizing your writer's desk, we have a large range of compatible standing desk accessories to offer that will complement your standing desk! From storage and power solutions to lighting, anti-fatigue mats and monitor stands, each product does a bit into setting up your creative space. So tune up your workplace and enjoy your new inspiring environment!
1. High-Quality MDF Materials
Enjoy a smooth, scratch-resistant, waterproof surface while writing! Our tabletop materials include MDF and eco-friendly bamboo options available in various vibrant colors and sizes.
2. Organize Your Cable Setup
Choose from our selection of grommets to suit your cable management needs! From circular powered grommets with AC and USB ports to large & rectangular ones with soft-close lids.
3. Memory Positioning Remote
Our memory positioning remotes conveniently allow you to save multiple heights. Choose from our range of remotes, including LED screens, convenient USB ports, rotational remotes, or paddle-style controls.
4. Customizable Width
Each frame width can be adjusted to allow for various setups and tabletop sizes. Our tabletop sizes range from 42" x 30" to 72" x 30", with convenient pre-drilled holes.
5. Adjust Your Height
The adjustable heights of our standing desks range from 23.6" to 49.1", designed for all heights!
Personalize your space with our vast range of compatible standing desk accessories!