PD-CS1
Regular price
Sale price
$15.00 USD
Unit price
per
Sale
Sold out
No more guesswork about tabletop colors with our color swatch kit!
You can now explore an array of nine captivating tabletop shades: Roasted Walnut, Light Walnut, Rustic Hickory, Bright Beech, Ebony Oak, Pure Black, Warm White, Gray Oak, and Dark Cherry. Each swatch is made of durable MDF (medium-density fibreboard) and measures 6.0" x 3.0" x 0.2", providing a tactile and visual representation of our stunning tabletop finishes. To help you ease the problem of choice, we also offer you five double-sided swatches that showcase the diverse range of vibrant laminate tabletop colors we offer.
Our MDF color samples kit isn't just about appearances – it's a decision-making tool, allowing you to visualize how these tabletop colors complement your existing home or office space.
By physically engaging with our tabletop color swatches, you can make informed choices, ensuring your table's color aligns perfectly with your style. With this kit, you're not just shopping for a desk but creating an environment that reflects you!
This kit is free when you purchase any MDF Progressive Standing Desk. Once you're ready to invest in a standing desk, our customer service team will apply the equivalent discount to your purchase.
* Available tabletop sizes may vary by color. For size details, please refer to our standing desk builder or individual tabletop pages. For additional information, please check our tabletop brochure.
Included Table Top Colors

Roasted Walnut, Light Walnut, Rustic Hickory, Bright Beech, Ebony Oak, Pure Black, Warm White, Gray Oak, Dark Cherry

Dimensions (LxWxH)

6.0" x 3.0" x 0.2"

Weight

0.1 lbs
Free shipping to the 48 United States and Canada
View full details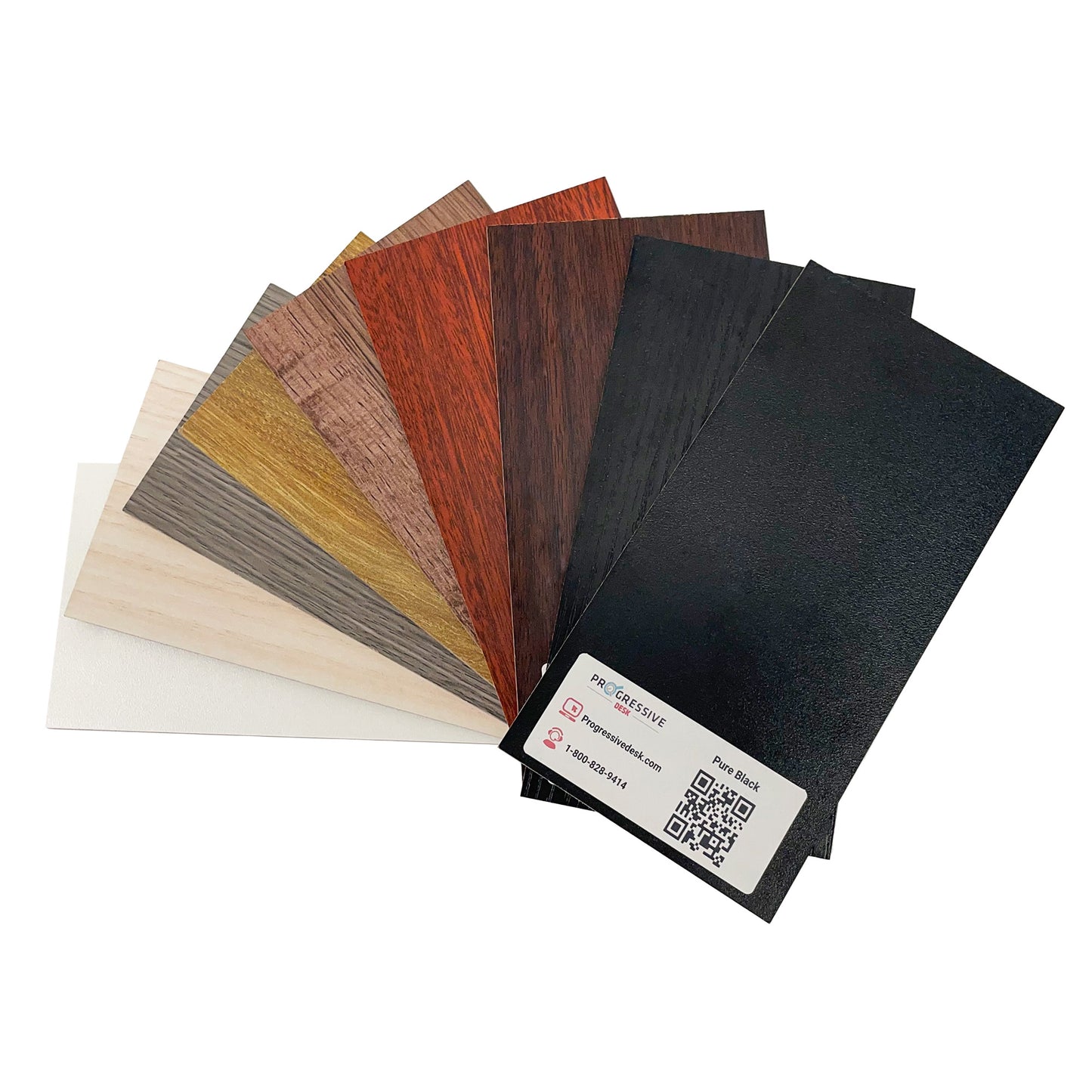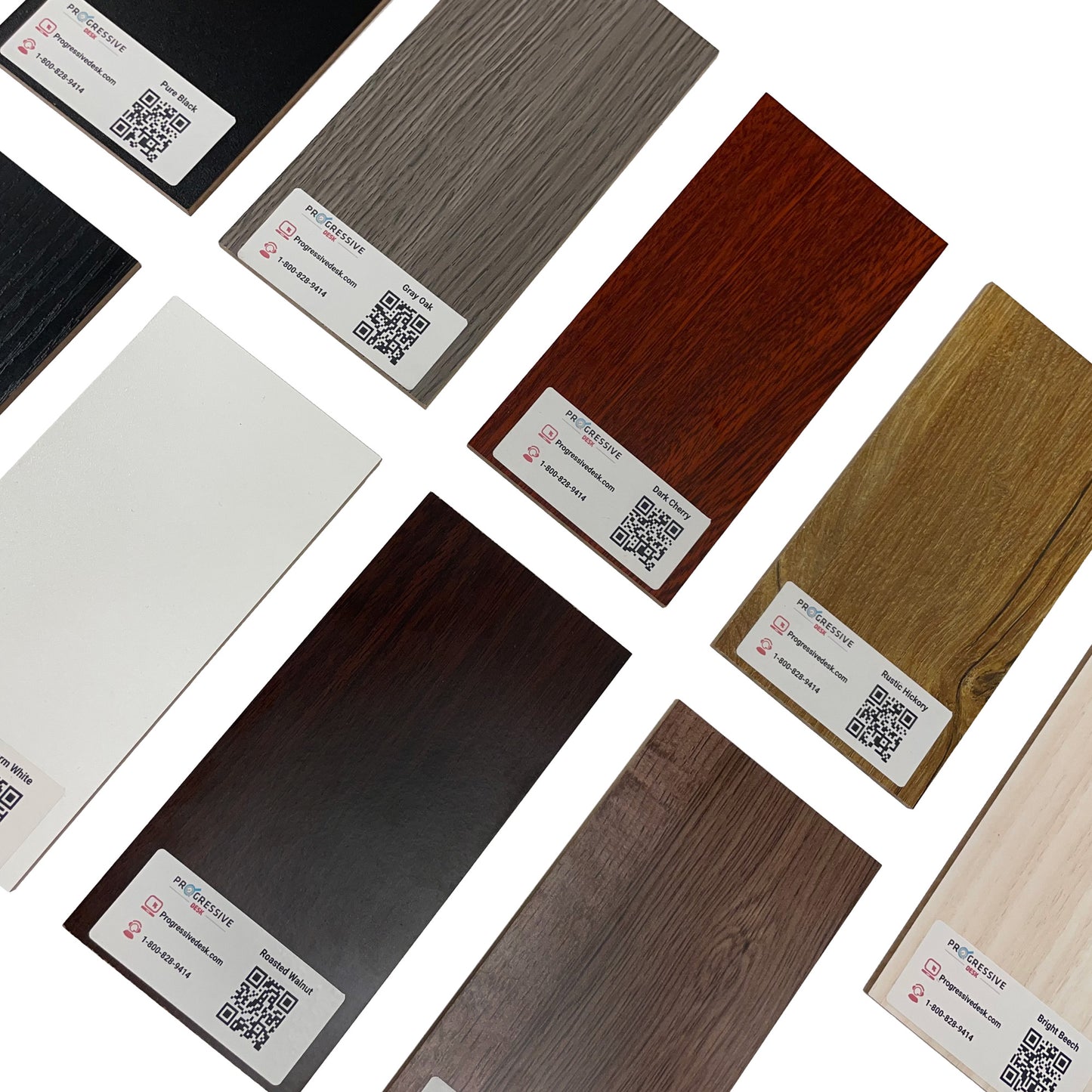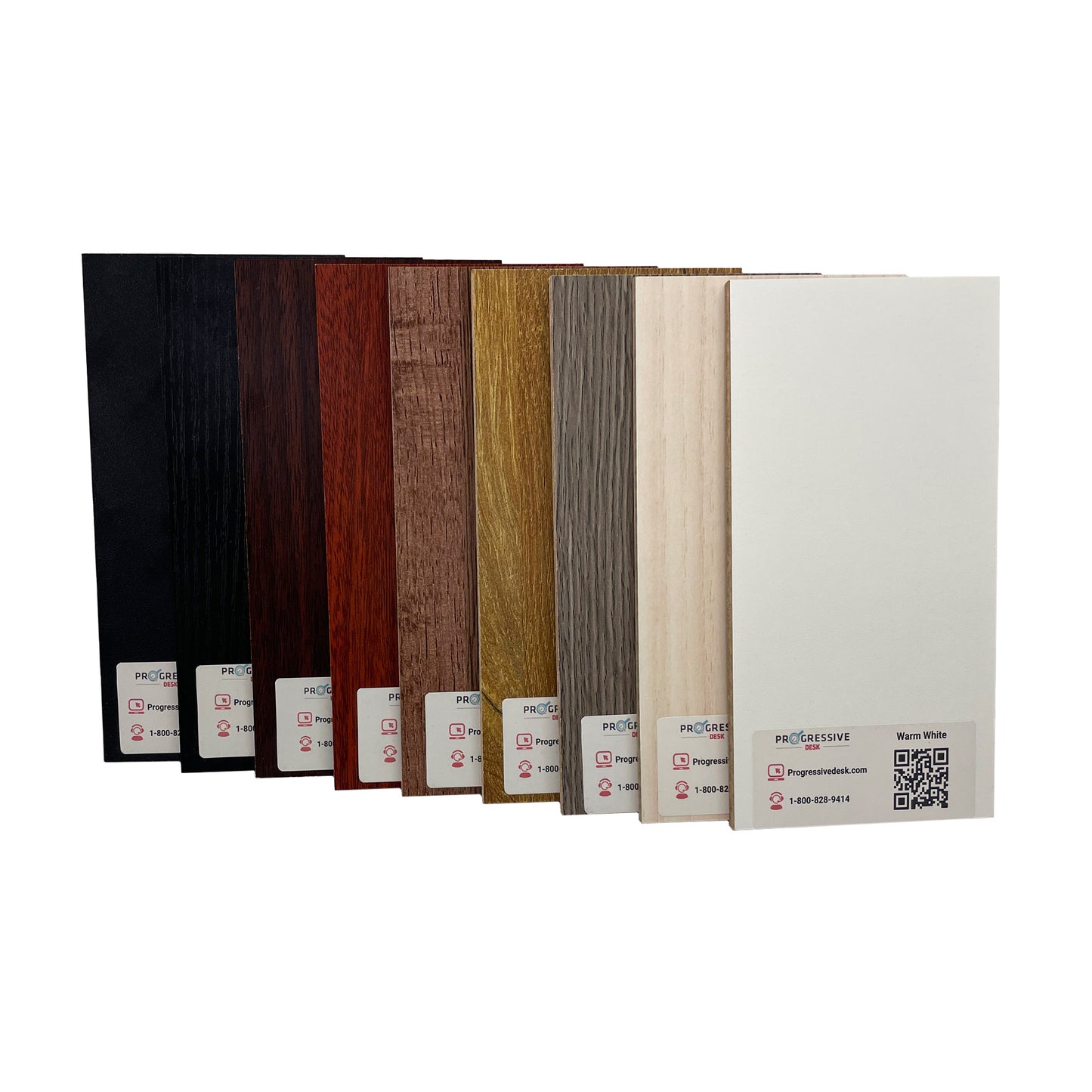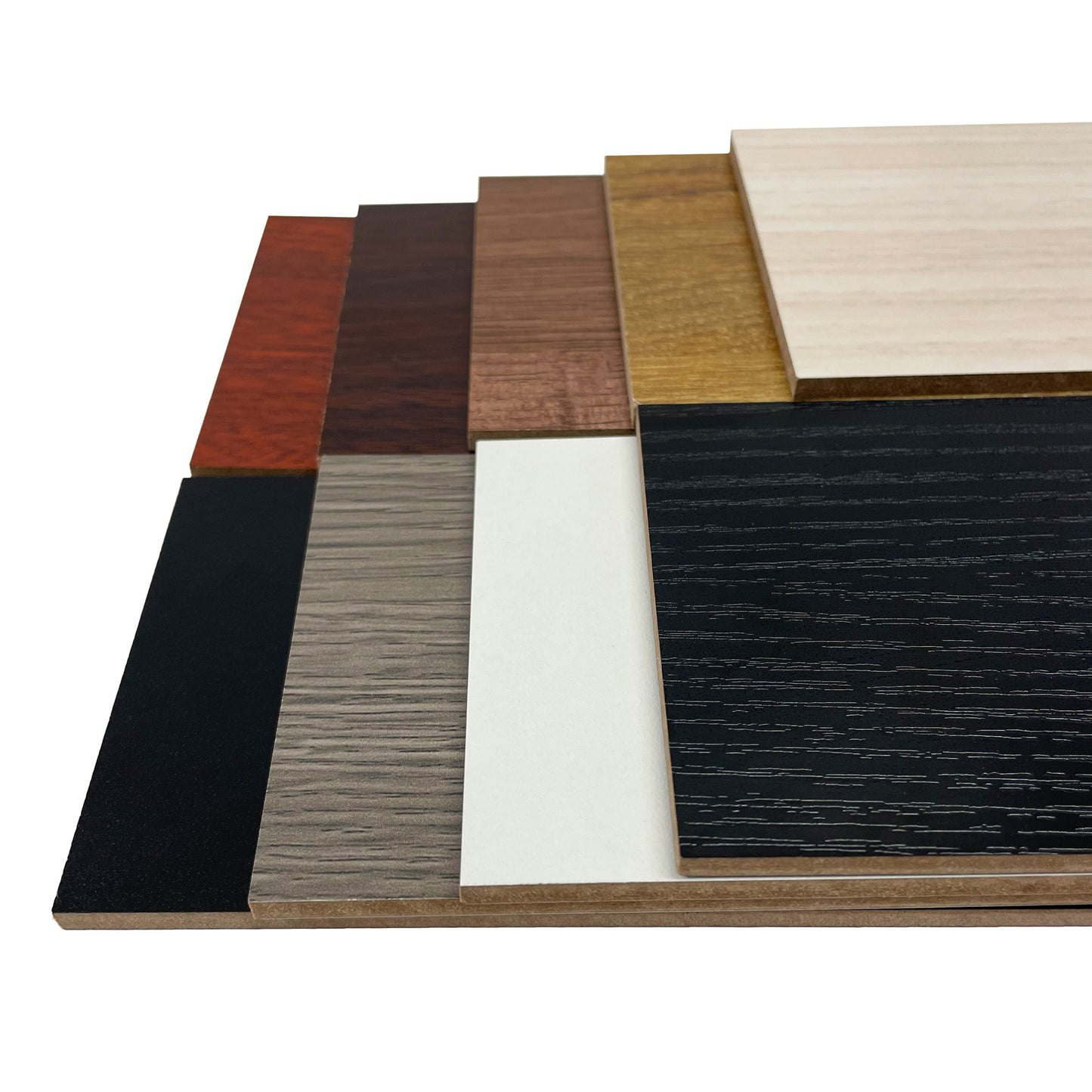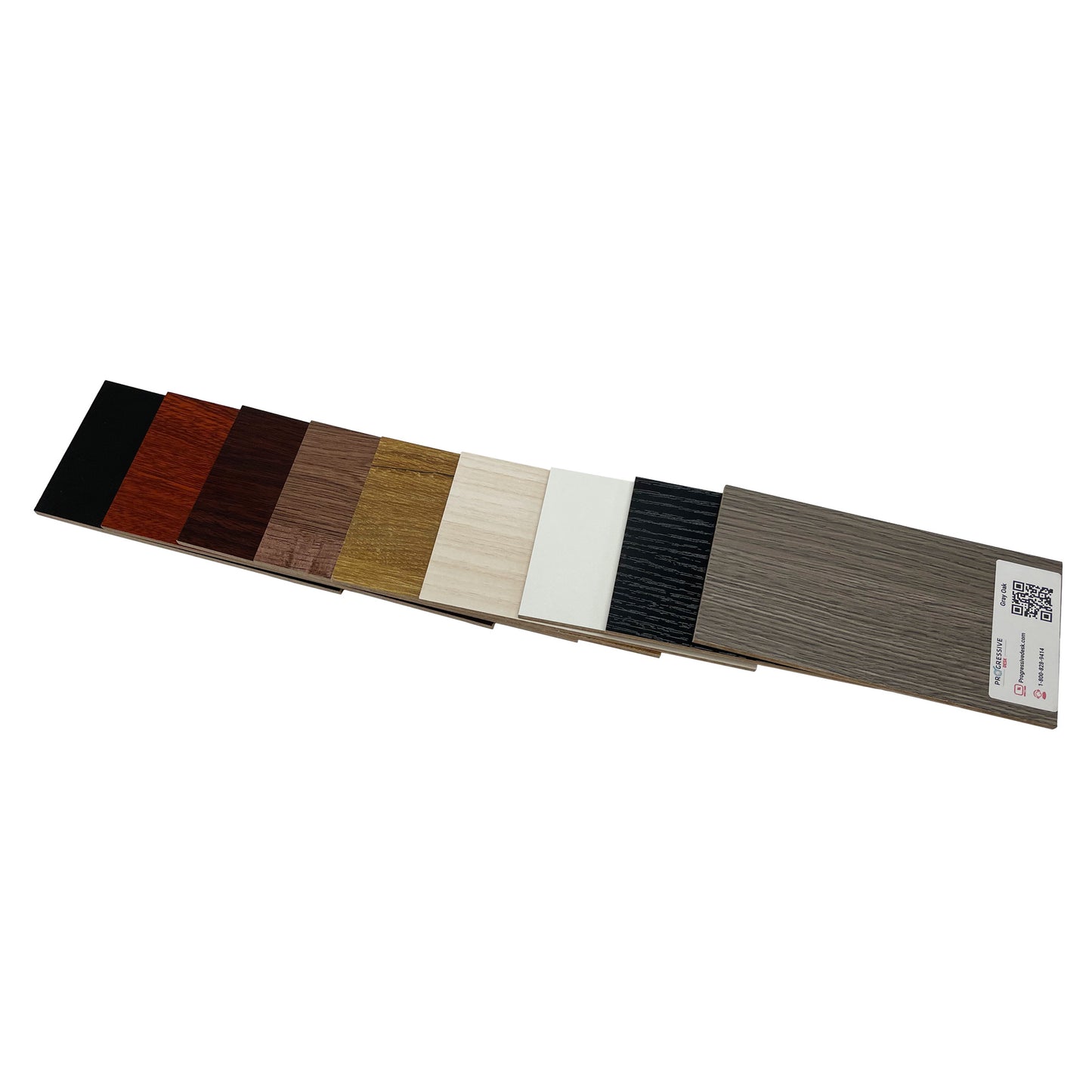 Tabletop Materials
Solid Wood Tabletops
Experience style and practicality with our Premium tabletops. Crafted from the finest solidwood, these tabletops showcase mesmerizing grain patterns and captivating colors. Choose from two size options for durability, easy maintenance, and eco-conscious design.
2 colors available. Compatibility: Solo Ryzer
Epoxy Tabletops
Epoxy tabletops combine the beauty of natural wood with a durable resin finish, showcasing unique patterns and colors. They are visually striking, easy to care for, and enhanced with a protective layer that resists scratches and moisture damage.
2 colors available. Compatibility: Solo Ryzer
Particle Board Tabletops
Our laminate-sealed particle board tabletops are immune to humidity and other environmental factors, ensuring durability. Our tabletops offer ample workspace and a comfortable, ergonomic design.
5 colors available. Compatibility: Corner Ryzer (59" × 59")
MDF, Laminate Tabletops
Discover the remarkable durability of our laminate tabletops, featuring a protective layer of laminate and a resilient MDF core. They are resistant to varying temperatures, high humidity, UV rays, and other environmental factors and require minimal upkeep.
9 colors available. Compatibility: All Standing Desks
Bamboo Tabletops
Our bamboo tabletops combine style, functionality, and eco-friendliness. With scratch and water resistance, they are perfect for any home or office. Made of carbonized bamboo, they are high-quality, durable, and come with a 15-year warranty.
2 colors available. Compatibility: Economy Ryzer, Solo Ryzer
| | |
| --- | --- |
| | |
| | |
| | |
| | |
| | |