Working from Home? How to Optimize Your New Home Office
9.8 min read
Working from home can come with a variety of benefits. And in current times, many workers have now found themselves readjusting their professional lives to their new 'home office'. While you have been given the flexibility to work from home, new unprecedented work challenges can also arise. Those who may not have the experience of freelancing or working remotely are now faced with setting up a home office that needs to work for them.
It's not as simple as turning on your laptop while sitting on your couch, surrounded by your family. You could find yourself distracted by noise, unwanted chatter, and other disruptions during your working hours, making it near impossible to operate at your full potential.  You might begin to miss your office and the proper working environment that facilitated your focus and provided optimum conditions.
We have compiled four key tips to beat the unwanted turbulences in your new office and enhance your productivity with just a little effort and change. You may also find after following the changes in this article that you work better in your new environment, from exercising daily to investing in a desktop that raises and lowers! These suggestions will optimize your home office and ensure you are comfortable without compromising on productivity.
1. Designate an Efficient Work Spot
You need to select a stress-free spot in your home where you can achieve maximum efficiency at work. Even if you don't have a separate room, you need to specify a corner or space with a low disturbance that suits you.  Ensure it's not an area where you will have to move often to cater to others. For example, if you are sitting at the kitchen table or on the living room couch, you may need to move when any other household member is around. Ensure you notify others of your workplace so that it doesn't get occupied by anyone else during your working hours. Also, keep items such as water and snacks nearby so you don't feel compelled to leave your desk as often, maintaining your concentration and keeping your focus on your work.
A designated work spot at home will help you create an office-like environment where you can concentrate on your tasks appropriately. It will help you stay organized and work with ease, despite a change in surroundings.
2. Ensure Your Home Office Desk Is Sufficient
Once you have chosen your home office space, you need to make it as functional as possible. You might already have a chair and a desk for a home office that works. If so, that's great! If not, or you don't think your current furniture is sufficient, it may be worthwhile to research home office desks and chairs. The dining chairs may look appealing, but they won't support your back for long hours. Similarly, the table in your study or living room might appear decent, but when compared with a proper office desk, or a standing desk, it may not measure up.
Even a small home office desk can bring a great deal of improvement to your working habits at home. One such option if you find yourself searching for your perfect home office desk is a computer desk that goes up and down. Navigated through wireless controls, they are proven to help with efficiency and improve the user's overall wellbeing. Having a desktop that raises and lowers offers its users prime conditions to work with ease. Simple adjustments alter the level of the tabletop to either your chair or standing height, giving you the flexibility to move throughout the day without having to leave your desk.
When choosing your home office computer desk, you need to be very vigilant. Make sure you select the one that fits your needs and home workspace. For example, if space is an issue then ensure you factor in measurements before purchasing. Alternatively, if you will require extra desk space for your workload, a V-shaped desk or longer desk dimensions can be considered. Factors such as sturdiness, reliability, and durability are imperative when buying a desk for your home office and will ensure you get exactly what you require. The best desk for working at home is completely dependent on the user and their needs – we offer a Desk Builder that allows you to toggle every aspect of your desk until you have customized it to your exact requirements.
3. Create A Schedule and Stick to It
Once you have a fully equipped and designated workplace at home, the next important thing is to plan your work schedule and stick to it. It's not only regularity that you need to hit your goals, but punctuality also plays a significant role in your progress and success. Make sure you go to your home office during your set work hours, ready for the day ahead. Set water-tight boundaries and punctuality goals to avoid distractions and optimize your time.
Inform your family members of your work hours and ask to be disturbed to a minimum during this time. This will help you inflict discipline in your routine and help others be mindful of your schedule.
To save time and gain efficiency at work, make sure you don't interrupt your schedule with unplanned activities. By doing so, you can dedicate the proper time to relaxation, entertainment, and family members after-hours. The temptations of personal chores, TV shows, or socializing may come as forms of distraction, but to ensure you continue the normalcy of your work/life balance, try to avoid them and stick to your schedule. By giving into these activities during your working hours, you may end up with a lot of pending work that will eat into your unscheduled hours.
Studies show that 50% of working adults report having back pain each year. No commute and lack of physical activity can cause you serious health issues, alongside the mental health repercussions of no exercise. It is therefore necessary to maintain your physical health while working from home. You don't necessarily need gym equipment if you don't have any – there are plenty of body stretching exercises that you can perform at home. Taking small breaks and walking around is also effective for relieving strain and can significantly lower the risk of back problems. Even 15 - 20 minutes of daily exertion can protect you from serious health issues, catering for both your physical and mental health.
Find out more about exercises you can do at home and at your desk here.
Conclusion: Make Your Home Office Your Own
Whether you're new to working from home or it is a normal working environment for you, keeping yourself enthusiastic and motivated can be a huge challenge. To achieve your full productivity potential, you need to set up an optimum environment to work with great energy and focus at home.  By implementing all or even some of these tips, you should see a significant difference! Setting up a functional workplace with a home office desk, working out a productive schedule, and exercising daily are just some of the small areas you can focus on that will make a big difference.
To find out more about our standing desk solutions or about the best desk for working at home, we would be delighted to assist you with any queries you may have. Try out our Desk Builder to customize your own standing desk!
How a Monitor Riser Transforms Your Workspace
September 18, 2020,
7.3 min read
Find Out More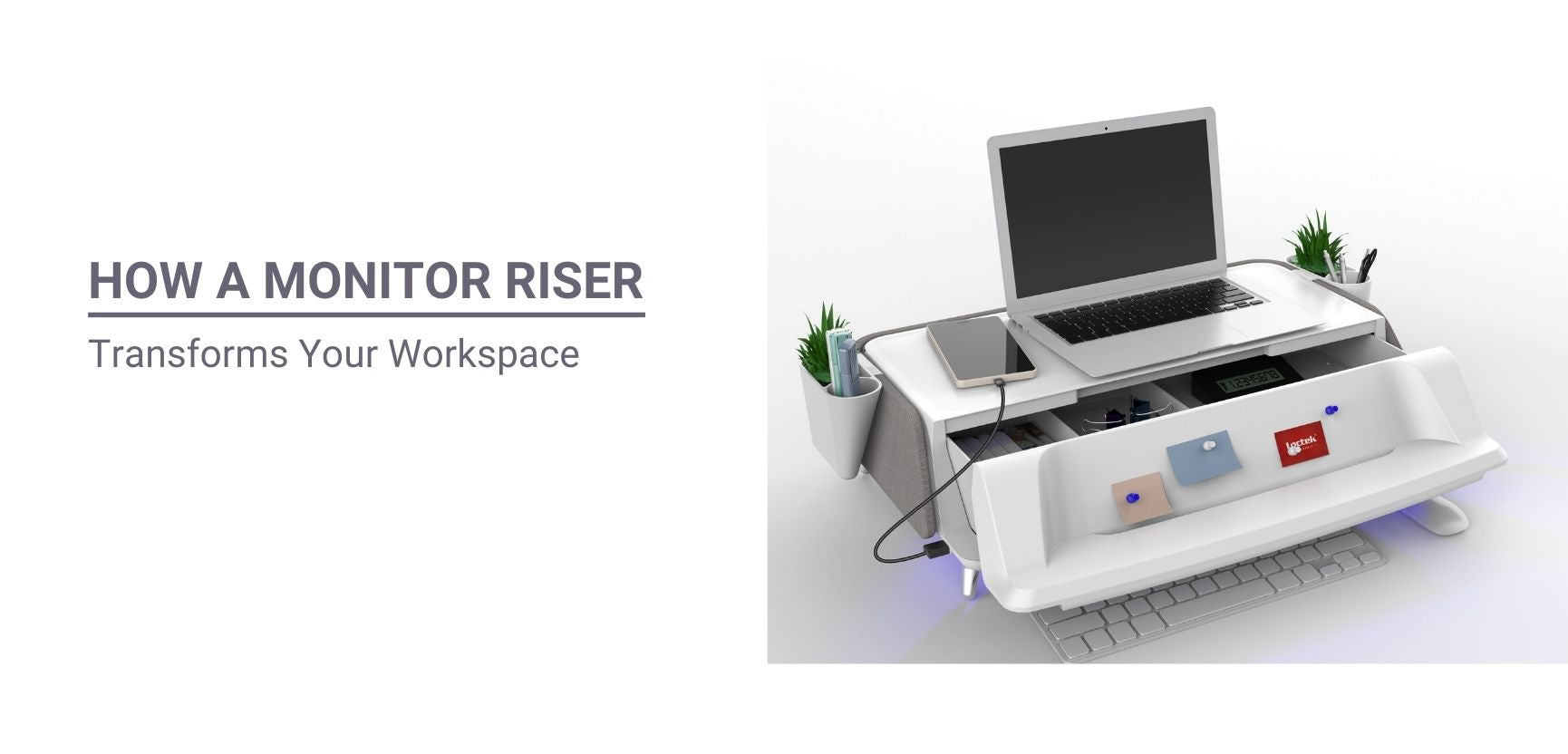 Why Sitting is Bad for You
December 20, 2019,
5.7 min read
Find Out More